Information-Trading System IT Trade allows trading, equity trading and derivatives trading as well as just getting on-line market information.
For: dealer centers (for brokerage and investment companies) to participate on the Russian Market either via a duly licensed Russian dealer or as an independent dealer undertaking the Russian legislation. Also can be used by private investors.
The system is installed at Investment Company "IT Invest" JSC, Russia to provide fully automated procedure of processing clients' orders and deals.
Brokerage System IT Trade was specially developed for the MICEX Stock Market (Moscow Interbank Currency Exchange, Russia) and was tested and approved by the latter. Market participants can send orders in the course of the whole operational day directly from remote workstations using the SmartTrade trading terminal.
User gets access to the Client Software either via a free Web-application (downloaded from the dedicated website) or via distributed SmartTrade software (which enables future upgrades).
Brokerage System IT Trade has no specific requirements to the client's PCs and can be activated even from Internet cafes.
The System has a 128-bit SSL security level.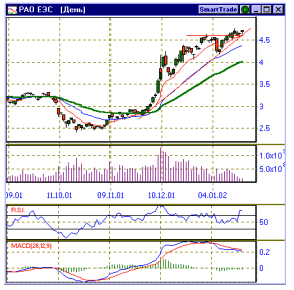 SmartTrade terminal's typical price charts